My Favorite Thing Is Monsters
My Favorite Thing is Monsters is a stunning 386 fully illustrated pages of thrilling coming-of-age storytelling and masterful artwork. Totally original, Monsters is powered by the tragic life circumstances of the author Emil Ferris who used this project to re-teach herself to draw after being paralyzed by West Nile virus.
I learned about this book from a Fresh Air interview with Ferris, and become so invested in her story I had to get to a bookstore the very same day to see it myself. She describes being bitten by a mosquito at her 40th birthday party after which she came down with fever and hallucinations for days after, all the while her six-year-old daughter checked in on her intermittently between watching TV and eating carrots. Doctors told her she wouldn't walk or work as an illustrator again, but she was comforted by a light in the darkness: love for her daughter who encouraged her to keep trying.
As a child, Ferris was deeply invested in horror comics and movies. She even wished to become the Wolfman, as does the protagonist Karen of her novel. The story is set in Chicago of 1968, and Karen draws herself as a female Wolfman who is also a pulp novel detective bent on solving the murder of a beautiful upstairs neighbor. Karen fills her notebook with drawings of her beloved horror covers and the diverse people who populate her neighborhood and apartment building. She is inspired by her older brother who takes her to art museums and studies the master paintings with her. As Karen sketches the world around her, we see how everyday people can be monstrous, and the perceived "real" monsters can be a sanctuary.
Several famous paintings are reproduced in pen and ink in stunning detail, one of them is "The Nightmare" by Henry Fuseli Karen's brother comments that the painting is sexy, and Karen begins to equate sex with terror. Their mother is battling terminal breast cancer, and the idea that breasts can harbor death point to a future where becoming an adult woman (who is destined to be harassed and abused for inhabiting a female body) suddenly makes adulthood feel dangerous.
Sexual violence is a running theme through the narrative, especially when we get to the inner story of the murdered upstairs neighbor Anka, who was born into a life of sexual slavery and brothels, and upon her escape was sent to a concentration camp before making it to the US. Karen herself narrowly escapes threatening advances from a group of boys from her school, and after must run to escape the nuns from her Catholic school who want to beat her as punishment for the experience.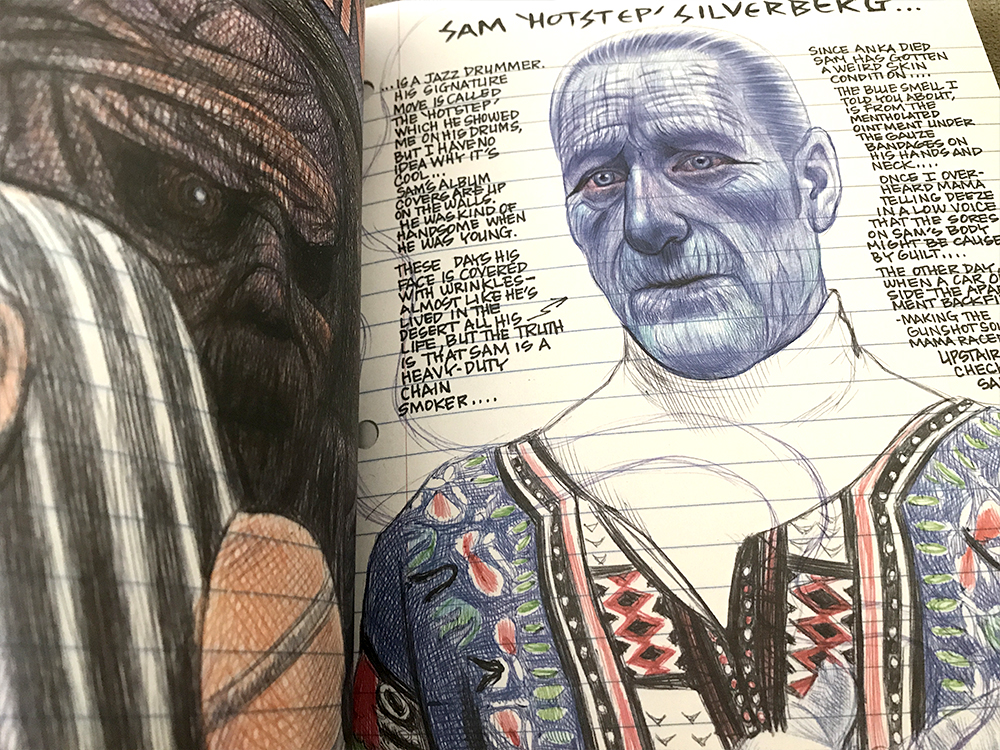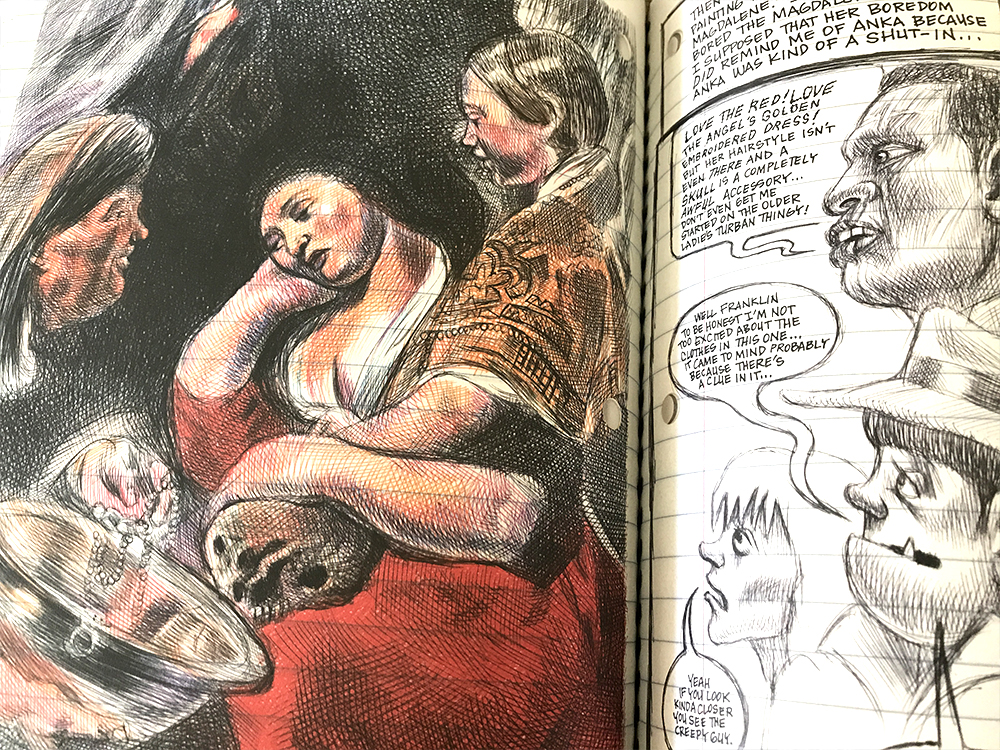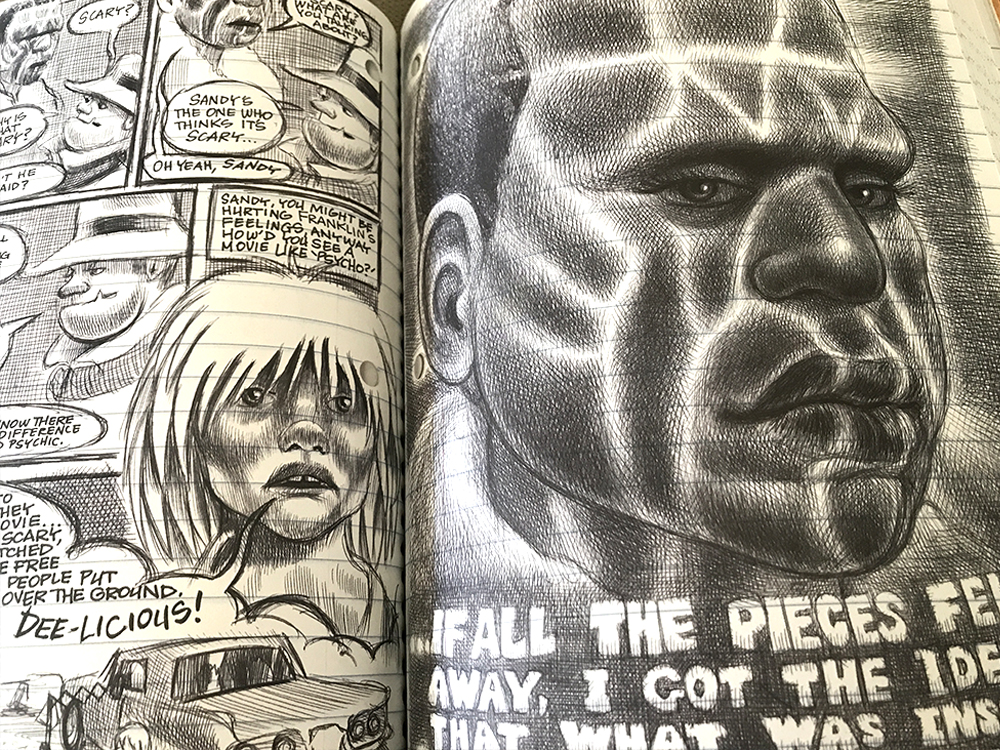 Ferris grew up on the stories of Holocaust survivor neighbors who survived the actions of monstrous people. She draws a connection between the horrors of the B movie genre and human history in the way people have treated each other. She came to the conslusion early on that to become the undead means to not fear death. To be the Wolfman is to be brave and strong. She shows how power is gained by embracing fear. When you are not afraid of a monster, you take it's power away.
This book also addresses issues of racial tension, the painful sorrow of poverty, and homophobia. Karen discovers her feelings for women and comes out to her brother near the end of the book. Farris is coming out with a second volume to pick up on where this one leaves off, in which Karen will deal more with her new sense of sexuality in a world with no role models for what that looks like.
Commenting on her success of producing such a massive accomlishment, Farris said, "It took me six years to do this. I was a single parent, disabled, struggled with a pretty severe disability, didn't have a lot of financial resources. If I can do this, I think a lot of people can."