The Teapot Opera
In college I had the great fortune to work at the library circulation desk, checking books in and out for my fellow art students. It was an education all on it's own, providing exposure to incredible books thatotherwise would never have been discovered. Even the droll task of shelf reading - checking the call number of every book on the shelf to maintain proper order - became a wonderful practice as it enabled me to browse an interesting title here and here. On such an assignment The Teapot Opera by Arthur Tress revealed itself, in all it's tiny, magical glory.
Each spread consists of a black left page set with white type opposite a full color photo on the right. The photographs are all framed with the same victorian toy stage in front of 19th century European chromolithographed backdrops.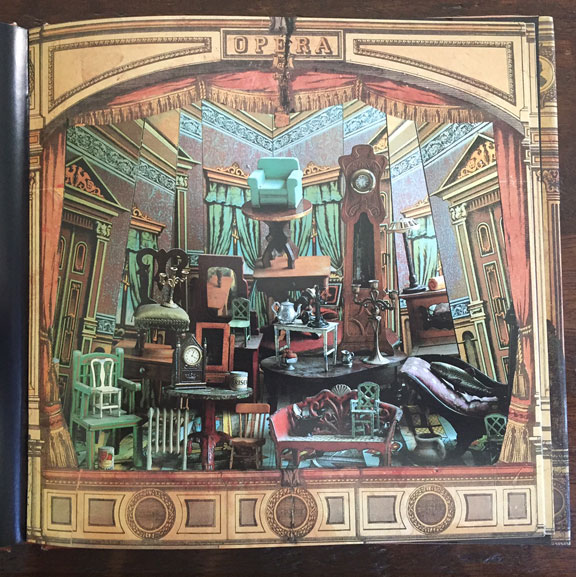 A miniature "opera" is enacted by staged objects - a teapot, a toy horse, bits of sculpture, billiard balls, a glass eye. The narrative follows the birth of an idea as it travels to full completion. The teapot emerges form the sea, breaks apart to reveal a white stallion, who then transforms into the sun and plants. The book is a small precious object, much like a teapot. It fits so nicely in one's hands, yet takes you to visit to a whole other world. It makes me want to build my own tiny surreal dioramas.
In the afterward Tress describes how he acquired the toy theater, backdrops and paper puppets from a curiosity shop in 1965, when living and working in Sweden. Many years later on a rainy day in New York, he pulled the theater pieces out of storage and began setting up scenes with random artifacts. He decided," I would do… a three act-opera with the miscellaneous household and antique objects I had collected over the years as singers…The story would be just what had happened: the sudden coming together of accidental elements, the surprising burst of energy, the flash of insight that sparks a work of the imagination."
The Teapot Opera inspires the viewer to see ordinary objects in new surreal ways - and opens the mind to reinterpretation. In the documentary Tresspassing: American Photographer Arthur Tress (directed and produced by Raleigh Souther) Tress states, "I don't really know how you define imagination. I suppose it's a kind of childlike belief that everything is a story, there's a reality that what seems real is just a fabrication, a contrivance. You can shift between the different layers of fiction and non-fiction and scramble them all up."